The gamers are tough cookies and the professional players look for might machines to fuel their power play. Asus ROG series is in the market for last one decade and steadily they impressed the segment and now share 35% with their high performing notebooks and desktops targeted at the hardcore gaming enthusiasts.
Continuing their focus in India, they added four more laptops and two desktop PCs under its ROG (Republic of Gamers) series for gamers and they not just look impressive but have powerful internals to cater to the gaming industry.
The laptops launched are ROG G752VY, ROG GL552VW, ROG G551VW, and the ROG G501VW, priced at Rs. 1,79,990, Rs. 82,490, Rs. 1,00,490, Rs. 95,490 respectively. The gaming PCs lineup includes the ROG G20CB and the ROG GT51 costing Rs. 1,22,990 and Rs. 3,25,900 respectively.
All the six machines are powered with Quad core 6th Gen Intel core i7 (Skylake) and NVIDIA GeForce GTX™ 900 series graphics and also boasts of patented cooling technologies.
Talking about the the launch of new products and the gaming industry, Peter Chang, Regional Head – South Asia & Country Manager – System Business Group – ASUS India, said, "Gaming technology is always evolving as a gaming enthusiast is always looking for upgrading or enhancing their systems. Today, along with high performance and graphics, gamers also want their machines to be portable and light-weight. With our new ROG series launch, we have tried our best to cater to the demands of all the gaming segments i.e. from entry and mainstream levels to professional gaming. It has always been our endeavor to provide the best gaming experience to the users and ultimately help the gaming industry in India to thrive"
ROG GT51: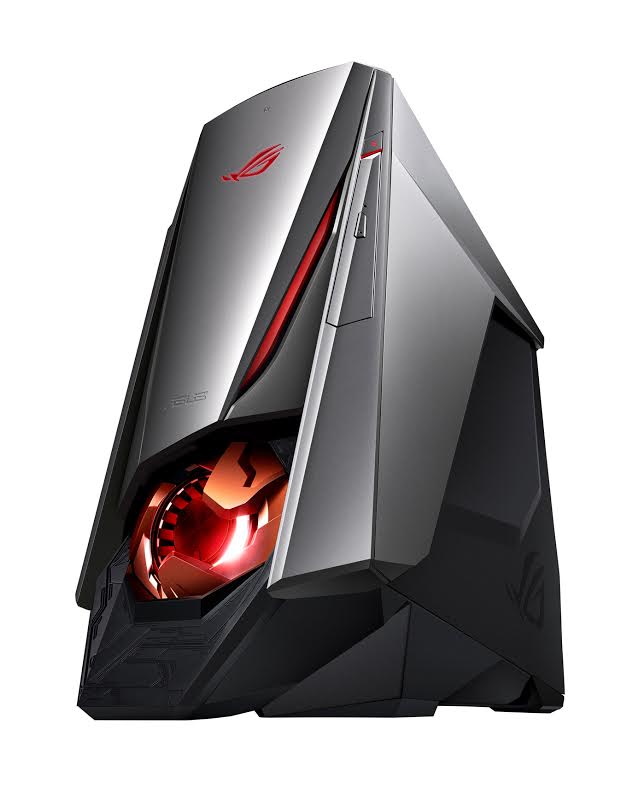 The top of the line gaming PC is priced at Rs. 3,25,900 and is the winner of the 2016 CES Innovation award in the Gaming and Virtual Reality category. It is powered by  a 6th generation Intel Core i7-6700K processor and NVIDIA GeForce with four variants including top of the line, GTX TITAN X (2-way SLI) and can run games across three 4K monitors. It also has a one-click ROG Turbo Gear to enable user to go full throttle by getting it fully overclocked. The desktop also bundles the Asus exclusive Aegis 2 application to monitor system parameters. It also features a USB 3.1 Type-C port in the front panel which transmits data at a speed of up to 10Gbps and can also quick-charge mobile devices.  For the cooling, the GT51 an internal cooling system with a dedicated air tunnel that takes advantage of natural convection to ensure efficient heat management during marathon gaming sessions. The ATX chassis looks attractive with an Armor Titanium and Plasma copper finish, a transparent side window and a customizable lighting effects that can span out up to 8 million colors.
Price: Starts at Rs 3,25,900
ROG G20CB
It looks sleek almost like a console but still has a powerful internals.
The specifications include:
Windows 10 Home or other editions available
Space-saving desktop with a 9.5-liter case
6th-generation Intel® Core™ processors and NVIDIA® GeForce® graphics for unstoppable 4K/UHD gaming
Dynamic 8-million-color LED effects with music sync and multi-color cycle modes
Exclusive Aegis II software with GameAlive function for easy gameplay video recording, editing, and sharing
Effective heat management for ultimate stability
Whisper-quiet 22dB at idle
Along with 2.5" and 3.5" slots for SSDs and HDDs, the G20 supports the latest M.2 PCIe Gen 3×4 SSD which gives you data access speed of up to 2Gbits/s and are four times faster than SATA SSDs. With up to an NVidia GTX 980, the G20 is suited for surround displays or for 2K or 4K monitors. The desktop also comes pre-installed with ASUS ROG Aegis II software with GameAlive for instant gameplay recording, editing, and streaming, and GameFirst III for network traffic management.
Price: 1,29,990
ROG G752VY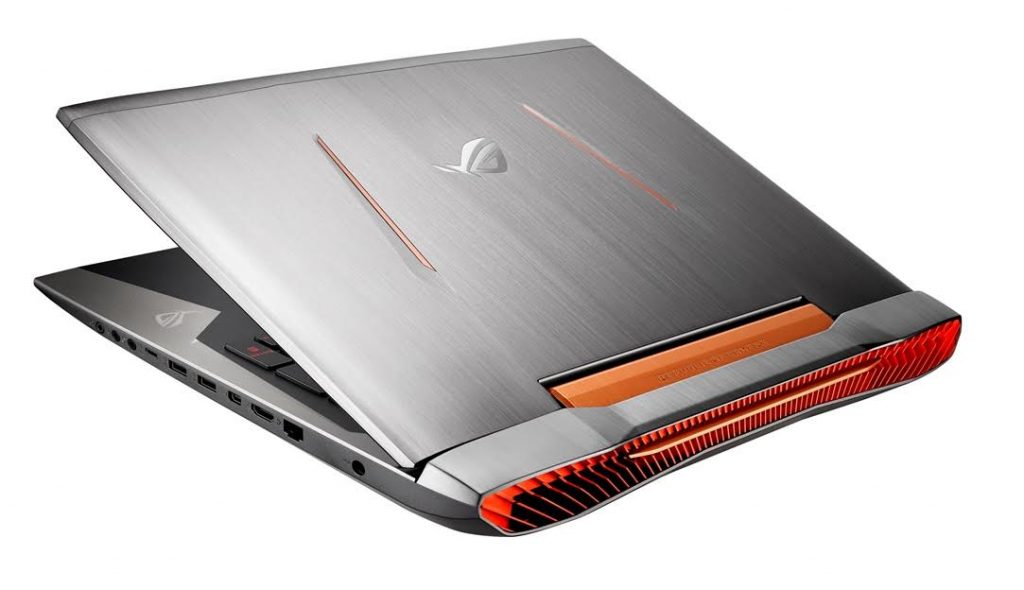 Armor Titanium and Plasma Copper color scheme
Windows 10
Intel® Skylake Core™ i7 processor , 6th gen
up to 64GB DDR4 RAM
NVIDIA® GeForce® GTX™ 980m graphics
3D Vapor chamber cooling technology
backlit anti-ghosting gaming keyboard with 30-key rollover
Price: 1,79,990
ROG G501VW
Has a slim profile for a gaming notebook measuring 20.6mm and weighs 2.06kg and features a metallic design and retains the ROG DNA. The 4K display panel offers 178-degree viewing angles and it has the Asus bells and the audio experience is enhanced with Asus SonicMaster and ROG AudioWizard. The internals setup include the Intel Skylake Core i7 processor, 6th gen NVidia GTX 960M graphics with 4GB GDDR5 graphics memory, 16GB ultrafast DDR4 system memory and up to a next gen 512GB PCIe Gen 3×4 SSD giving you speeds up to 2Gbits/s.
Price:  Rs 95,490
G551VW
A high-performance gaming laptop with 4K IPS panel with 178-degree viewing angles, complemented by ASUS SonicMaster and ROG AudioWizard enhanced audio. It features thermal management system for longer gaming sessions.  The G551VW is power packed with NVidia GTX 960M graphics with blazing fast 4GB GDDR5 graphics memory, 16GB ultrafast system memory, a 1TB of storage along with 128 GB SSD.
Price: Rs 1,00,490
GL552VW
Inspired by F22 stealth fighter aircraft, this notebook is stylish in looks with powerful internals and compact format. The device is power packed with Quad core 6th Gen intel core i7(Skylake), NVidia GTX 960M graphics with blazing fast 4GB GDDR5 graphics memory, 16GB ultrafast system memory, a TB of storage along with 128 GB SSD.
Price: Rs 82,490